Hossein Bigleri, Manager of Kindney Foundation and Manager of Chamber of Special and Incurable Disease of Kermanshah, visits UZBrussels Hospital in Belgium
Hossein Bigleri, Manager of Kidney Foundation and Manager of Chamber of Special and Incurable Disease of Kermanshah, visits UZBrussels Hospital in Belgium
In light of the previous coordination, the Manager of Kidney Foundation and Manager of Chamber of Special and Incurable Disease of Kermanshah, Iran visited the UZBRUSSELS Hospital in Brussels, Belgium, and received a warm welcome by Professor Prof. Dr. Karl Martin Wissing. He is a nephrologist and head of the hospital's nephrology department.
Mr. Hossain Biglari, with Prof. Wissing, visited various departments of the hospital, dialysis, transplant, emergency, and other departments, and Prof. Wissing provided a comprehensive explanation of the facilities at the hospital in Brussels. Hemodialysis patients were also visited.
Prof. Wissing also provided the necessary information about transplanted patients' medicine, and fortunately, the medicines are given to transplanted patients in Brussels, Belgium, are the same medicines prescribed for patients in Iran by physicians.
In Belgium, a Living-donor kidney transplant is not performed and a deceased-donor kidney transplant is so popular, and patients undergo kidney transplantation for 2 to 3 years. On the recommendation of Mr. Biglari, Manager of Chamber of Special and Incurable Disease of Kermanshah, he invited the hospital managers to visit Iran and the Kidney Foundation of Iran and Kermanshah.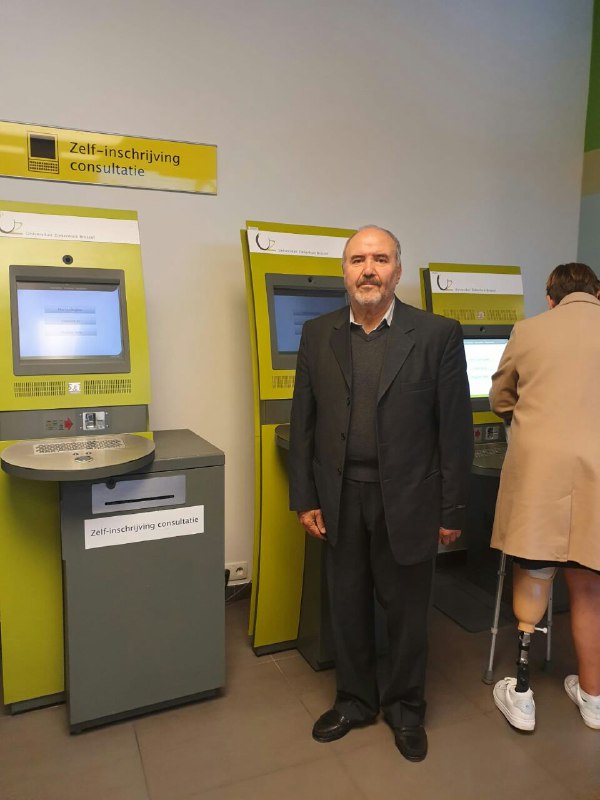 At the end of this visit of UZBRUSSELS Hospital, in appreciation of Prof. Wissing's efforts and kindness and the Head of Dialysis department and the Head of Hospital, they were thanked and by Hossein Biglari, Manager of Kidney Foundation of Kermanshah and Mr. Biglari was saw off warmly by Prof. Wissing, the Head of Dialysis and UZBRUSSELS Hospital.